Firstly, we have an order of business to which we must attend! We've MOVED! That's right, the Simon Says Blogs have moved to Wordpress and that means that you will now find this awesome challenge a T
HIS SPOT
now! Be sure to update your bookmarks, readers, etc. We are calling it the S
imon Says Wednesday Challenge
now, too, just 'cause, well, that sorta makes sense, seeing as we do it on Wednesdays and such. Just sayin'.
This week our challenge is a BY THE SEA challenge! I am loving all the nautical and shore related products out there right now and I am a BIG FAN of the beach, too, so I was pretty excited about this one, to be honest with you! Pretty. Darned. Excited. Just sayin'. The design team is using Fancy Pants products, so, yeah... seeing as I totally and completely LOVE their stuff, that made me pretty darned excited, too. For reals, folks, for reals.
Umm...I kinda sorta love this card super lots. Yup. Totally do, actually. Is that allowed? I used some awesome KP stamps and gorgeous Fancy Pants papers, along with some super cute MFT dies, so, I was armed for success, folks. I truly was.
As per usual, Heidi is awesomely offering a $50 Gift Voucher to one lucky participant this week! Woot! Woot! All you need to do is create an awesome card (up to five, actually) and link it up to the Simon Says Stamp Wednesday Challenge blog post for your chance to win it!

Be sure to head on over to see what the design team has created and then link up your awesomeness!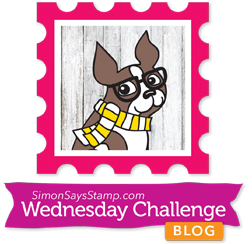 Have a Happy!!!