It's time for the
Skipping Stones Design
Blog Hop! If you came from
Brenda's blog
you are already on the right track! If not, you might want to hop back to the
Skipping Stones blog
to get started because there is LOTS of good stuff to see! Today we are releasing an absolutely BEAUTIFUL new stamp set! AND, we have another GREAT sketch this week! Not only can you enjoy the Blog Hop today and win a prize for hopping, BUT if you create a card and link it up, you have a chance to win free stamps! YAY!!!
I created this card with the new Everyday Blessings set. I just love the images on this set. I know, I know! The other day I was all up on making summer last with bright and sunny cards and now I have a fall card for you today, but just LOOK at it! *sigh* I guess fall can be happy, too. K? K. Good. Glad we got there together. Just say'n.
I inked the
May Arts
burlap string to match the image that I stamped in the same color.
And here is the fabulous stamp set!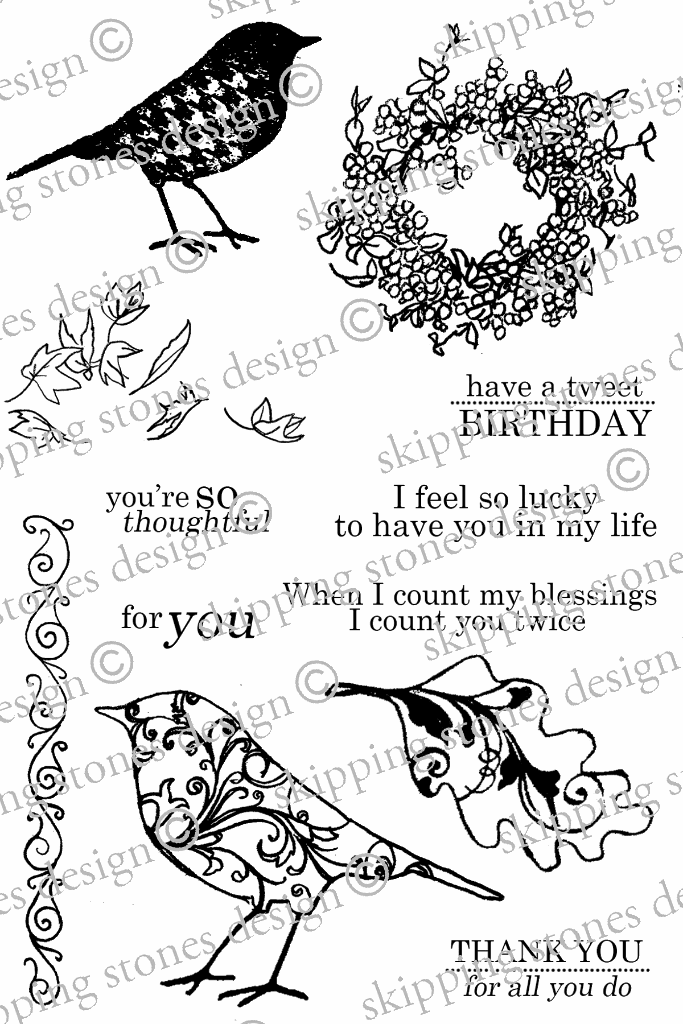 I KNOW, RIGHT? It's gorgeous! Well, keep on hopping and have fun!!! Next on the hop is
Stephanie Mino
!
Here is the complete list just in case you get lost!

Teri Anderson
Tamera Beaton
Maureen Plut
Amy Tsuruta
Karen Baker
Kandi Phillips
Barb Turpin
Brenda Weaver
Jennifer Ingle
*You are HERE!
Stephanie Mino
Wendy Jordan
Gladys Chia
P.S. Don't forget to check out YESTERDAY'S post for a chance to win one of my zombie art dolls!
P.P.S. Don't forget to check out yesterday and today's line up for
Blogs for Boobies
AND come back HERE tomorrow to participate!!!
P.P.P.S. (Are you allowed to have that many? I certainly hope so, 'cause I'm totally do'n it!) HAVE A HAPPY TUESDAY!!!!