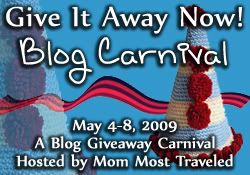 TWO AWESOME BLOG GIVEAWAY CARNIVALS!!!
What does that mean? Well, after offering a fun little prize yesterday for being a slacker, I decided I would totally NOT be a slacker this week and I am going to do a giveaway EVERY DAY THIS WEEK! Yup! You read that right!
EVERY SINGLE DAY THIS WEEK
, Monday - Friday you will see a new giveaway on my blog with a new prize!
In addition to that...I have regular posts that I plan to get up, so you are going to have LOTS of reading fun this week around here! I'm excited. Are you excited? You should be excited because I'm excited.
So....LET THE GAMES BEGIN!
Today's Prize is this lovely bracelet! No, the hand does not come with it! LOL! It is stretchy so it will fit just about any hand!
The Giveaway begins today and will close at Midnight on Sunday, May 10th. (Mother's Day, in case you are wondering why that day sounds important...)
How to Enter:
First entry MUST BE COMPLETED. All others are extra entries and you only need to do those if you want to!
1. Post a comment telling me why you want this bracelet and who it would be for! Don't worry - it's totally cool if you want it for you!
Posts that say "I want to win." or "Count me in." or the like will not be counted. Please answer the question.
2. EXTRA entry #1: Follow my blog AND post a comment letting me know you follow
3. EXTRA entry #2: Follow me on
Twitter
AND Tweet this giveaway AND post a link to the tweet in the comments.
4. EXTRA entry #3: Make me a favorite in
technorati
.
Be sure to leave a SEPARATE comment for each entry. Possible entries per person: 5.
Winner will be randomly selected.
US Shipping addresses Only Please