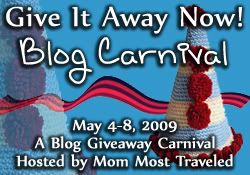 Here we go again! Yes, this is DAY 4 of the awesome and AMAZING Just Jingle Giveaway Week! Hee-hee...nothing like a bit of hype to stir things up a bit!
Today's offering is SUPER FUN! At least, I'm excited! I love it! I have a small bottle of Burberry Perfume for one winner! It's one of those cute little ones that looks adorable when you set it on a mirror on your dresser. If you have one of those. I don't, but they always seemed so magical and lady-like and even PRINCESS-like! There is just something about them! Well, anyway...the other awesome thing is that it is BURBERRY! Hello! Folks! This is a good thing! I SO adore all things Burberry! My glasses are actually made by them and they are super cute! Anyway, on to our prize:
Isn't it adorable? And wonderful? And all things good? Yes. Yes, my friends, it is!
If you are visiting for the first time today please take a look around because we have open giveaways from Monday through today and we will have one more tomorrow just for fun! Thanks for stopping by!
How To Enter:
US Mailing Addresses only, please.
REQUIRED: Please post a comment on this thread telling me your favorite post of mine! I'd love to know!
Optional Extra Entries:
Follow My Blog and leave a Separate comment to let me know!
Follow me on Twitter AND Tweet this giveaway - Comment with a Link to your Tweet!
Make me a favorite in Technorati (see side bar)
Enter the Giveaway from Wednesday and comment here letting me know!
Thanks for visiting! I hope to see you all around even more!